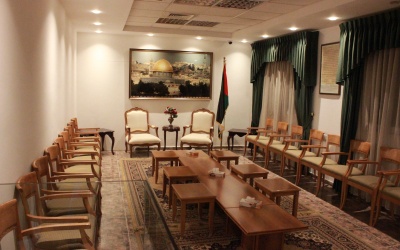 The late President Yasser Arafat spent the final three years of his life under siege by the Israeli occupying forces at his headquarters in the presidential compound, Al-Muqata'a, where Arafat served as president, leader, and father of the Palestinian people. Arafat conscientiously attended to all aspects of the daily life of his citizens and was revered for his humility, benevolence, and devotion.
In preserving the conditions in which the late President Arafat lived and worked, his headquarters have become a significant landmark and symbol of struggle and steadfastness. The noble essence of Arafat's presence permeates the space.
The headquarters includes the late President Arafat's office, conference room, bedroom, living room, secretary's office, and bodyguards' quarters.